Our Fabrics
Sisterly Tribe was born from a vision to create a sustainable ethical yoga wellness brand that feels great for body, mind, spirit, and the planet. We strive to set a new standard for the fashion and activewear industry, one that promotes sustainability and ethical practices in every step of the production process.
We understand that producing new items is in its essence not 100% sustainable, however, we want to offer a more eco-friendly alternative. We believe the best way to limit your impact is to buy quality goods that will last a lifetime. Therefore, our collections are designed through the exploration of a variety of high-end sustainable fabrics. Each piece is designed with the aim of creating luxurious athleisure essentials that combine style, comfort, and function.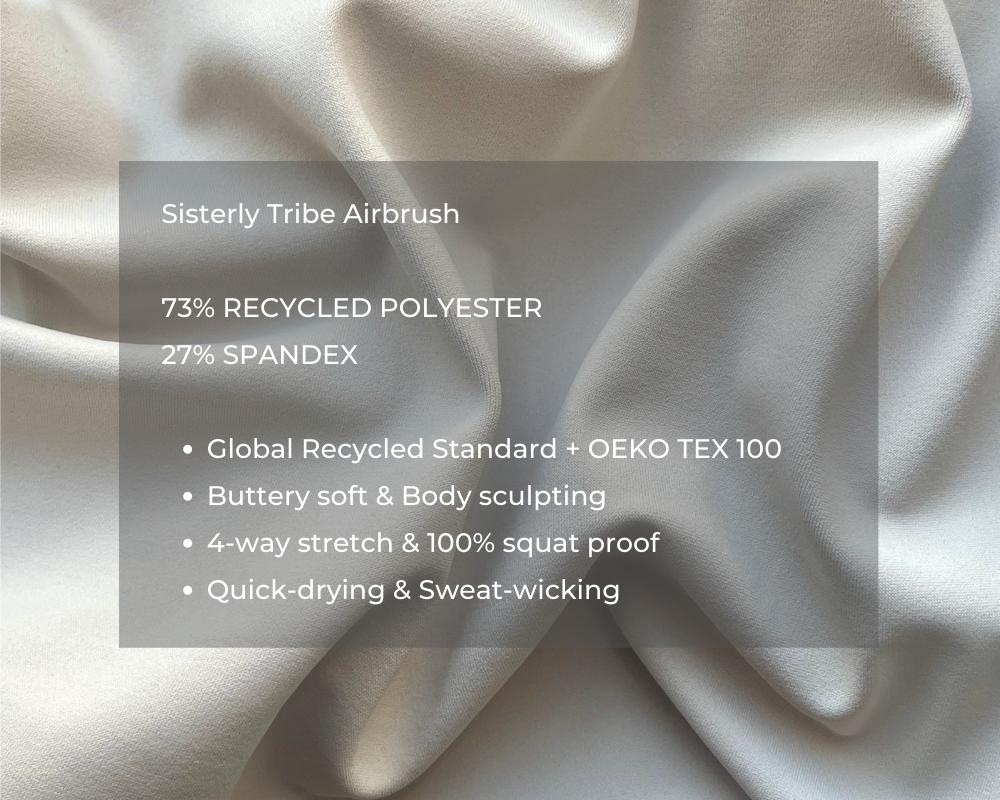 Sisterly Tribe Airbrush
Our signature fabric is a premium, buttery soft fabric made from a blend of recycled polyester and spandex. It has the perfect balance of compression & flexibility giving you the feeling of a second skin. It shapes, holds and hugs you in all the right places. It is 100% squat proof, breathable and sweat-wicking, making it ideal for all sorts of activities.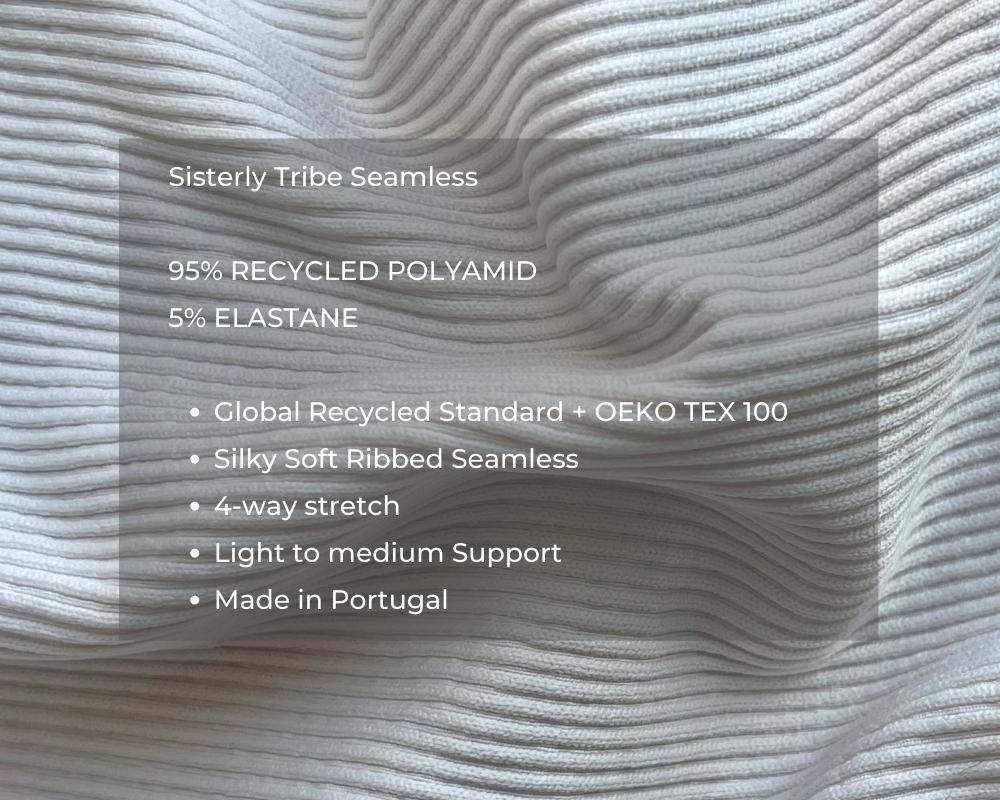 Sisterly Tribe Seamless
Our most recent addition is our silky soft ribbed seamless fabric made from a blend of recycled polyamid and elastan. The handfeel is silky soft and it has 360 degrees stretch for maximum flexibility. The vertical high rib is very flattering and the fabric smoothes and hugs your body, giving you a flattering silhouette that enhances every curve.  The production of a seamless fabric keeps fabric waste to a minimum, making it a more sustainable alternative.

Loved by our community
"Just Perfect! This tights are so comfy and make a perfect body shape! I love them not just for yoga, they are great to wear for any occasion. I am super happy with all sisterly tribe products."- Andrea H
"As a yoga teacher, I can explain the amount of tights I've tried that are either not sized as described or that are see-through while said 'squat proof'... These tights are quickly becoming my go-to tights in the closet! Gorgeous soft fabric and lovely colour, definitely squat proof and they stay in place during the entire yoga practice. Not too mention, truly eco friendly" - Vicky M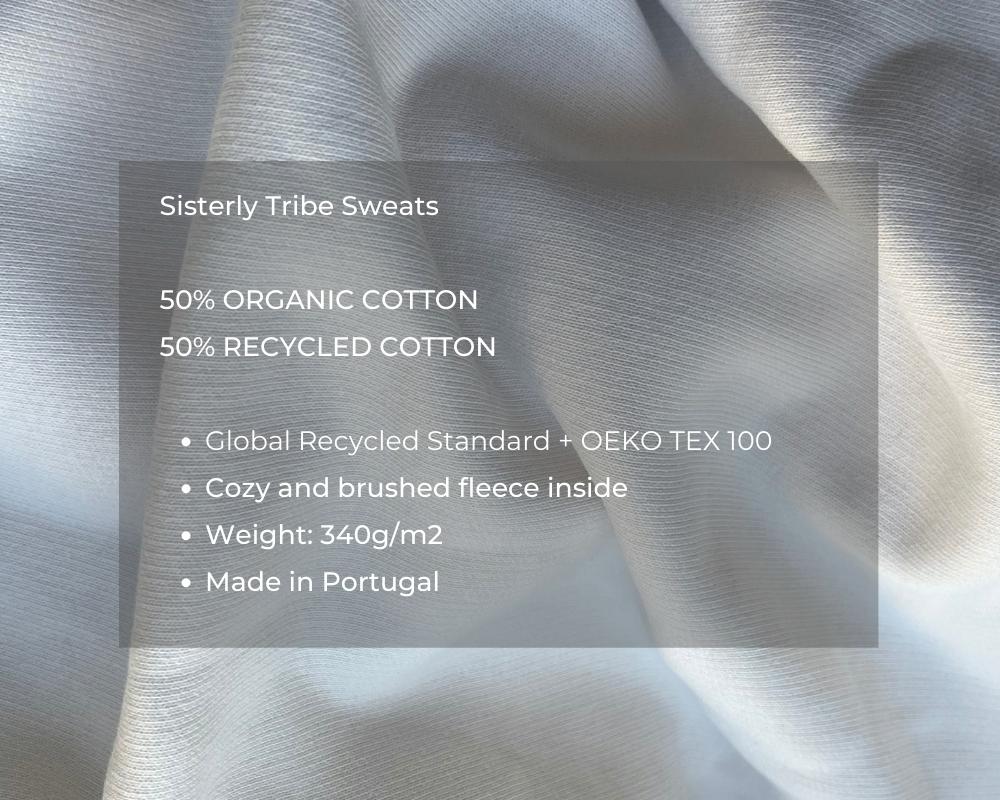 Sisterly Tribe Sweats
All our cotton products are made from either 100% organic cotton or a blend of recycled and organic cotton. Choosing recycled or organic cotton makes a big difference for both the environment, but also for the farmers. Organic cotton is grown without the use of synthetic fertilizers, pesticides, or genetically modified organisms (GMOs). Instead, farmers use natural methods such as crop rotation, composting, and biological pest control.
Why choose Recycled Polyester?
When it comes to the fabric and its qualities, recycled polyester is not very different from conventional polyester. When producing recycled polyester, the energy that is used is less than if you produce new polyester. This leads to cost savings, both for producers and for consumers as well as an environmental benefit in taking a non-renewable source and turning it into something useful!

Choosing Recycled Polyester results in huge energy savings (of up to 45%) during the fiber production process compared to virgin polyester. Choosing recycled polyester over its virgin counterpart also means a 20% reduction in water consumption and 30% fewer CO2 emissions.
What are the benefits of Organic Cotton?
There are many reasons why you should choose organic cotton as opposed to regular cotton.The organic part has a greater meaning for both the environment and you as a consumer. In other words, the organic stamp is way more than just letting the buyer know that the item is "better". Below you will find three reasons why you should choose organic cotton as opposed to regular.
Less chemicals and pesticides are used in the production process.
The production of regular cotton requires a lot of chemicals and pesticides due to its sensitive nature. These dangerous toxins are both a hazard for the workers producing the cotton, and for the people using it. Every day up to 1 000 cotton farmers and workers die of acute pesticide poisoning and the number of people suffering from chronic diseases is sadly much higher.

Beyond chemicals' and pesticides' effect on the cotton workers the toxins can also affect you as a consumer. When we move regular cotton into our wardrobes and homes we also move the chemicals and pesticides the garment carries. The pesticides can cause you skin irritation and when we wash the garment, dangerous chemicals can also be released into our environment.
Requires less water in the production process.
The production process of one kilo organic cotton uses around 71% less water compared to the production of regular cotton. Instead of only using fresh water the crops also take advantage of the rainwater for about 80% of their needs. The high water consumption that is needed to produce regular cotton highly affects the regions where the cotton is produced. In the greater cotton regions in India the water levels of the groundwater can sink as much as 15 meters a year. Consequently, since most of the water is used by regular cotton farmers, the changed water levels lead to lower production of other necessary crops like vegetables.
A softer feel on your skin.
Another great benefit of organic cotton is that it actually feels softer on your skin. The organic fibers are longer and free from pesticides which makes the cotton feel softer and more flowing on your skin, making a perfect material for active wear. Clothes made from organic cotton are also more durable and do not rip as easily since the fibers of organic cotton grow stronger than regular cotton. This results in the clothes keeping their shape, even if they are being stretched or washed.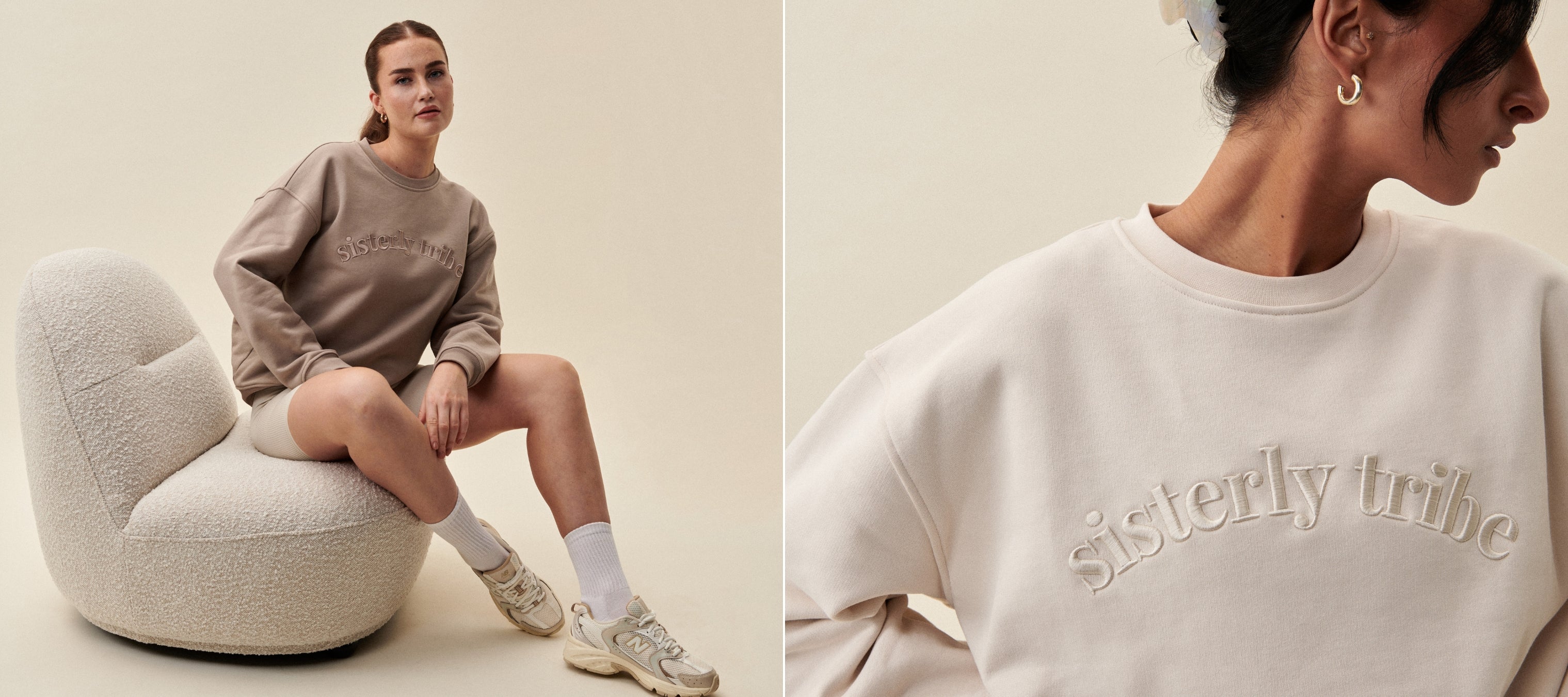 What are the benefits of Recycled Cotton?
Recycled cotton is a sustainable alternative to conventional cotton that offers several benefits for both our environment and you as a buyer. The recycled cotton in our sweats is made from pre-consumer waste such as scraps from clothing production. Together with our supplier, we collect waste from local factories in the Porto area that is turned into new cotton fibers.

Reduces waste and conserves resources.
By using pre-existing cotton waste, we help reduce the amount of cotton that ends up in landfills. In addition, the use of recycled cotton also reduces the need for new cotton production which both saves significant amounts of water and energy.

Requires less energy and water
Another benefit is that the production of recycled cotton requires less energy and water compared to conventional cotton. Since the production does not involve planting and harvesting new crops, nor requires pesticides or fertilizers, the recycled cotton is a great sustainable option for the environment.

Reduces the carbon footprint.
When you choose to buy clothes made from recycled cotton you have the potential to reduce the clothing production's carbon footprint. The production of conventional cotton is responsible for a significant amount of greenhouse gas emissions, including carbon dioxide and methane. If we as consumers request and demand recycled cotton from the clothing industry, manufacturers can reduce their carbon emissions and help mitigate climate change.

Sustainable and fashionable material.
Finally, recycled cotton offers you as a consumer a range of fashionable clothing options while being sustainable for the environment. The material can be used in a variety of clothing items and can be dyed in a range of different colors and patterns. When you buy clothes made from recycled cotton you will enjoy high-quality and stylish clothing, while also supporting sustainable and ethical clothing production practices.