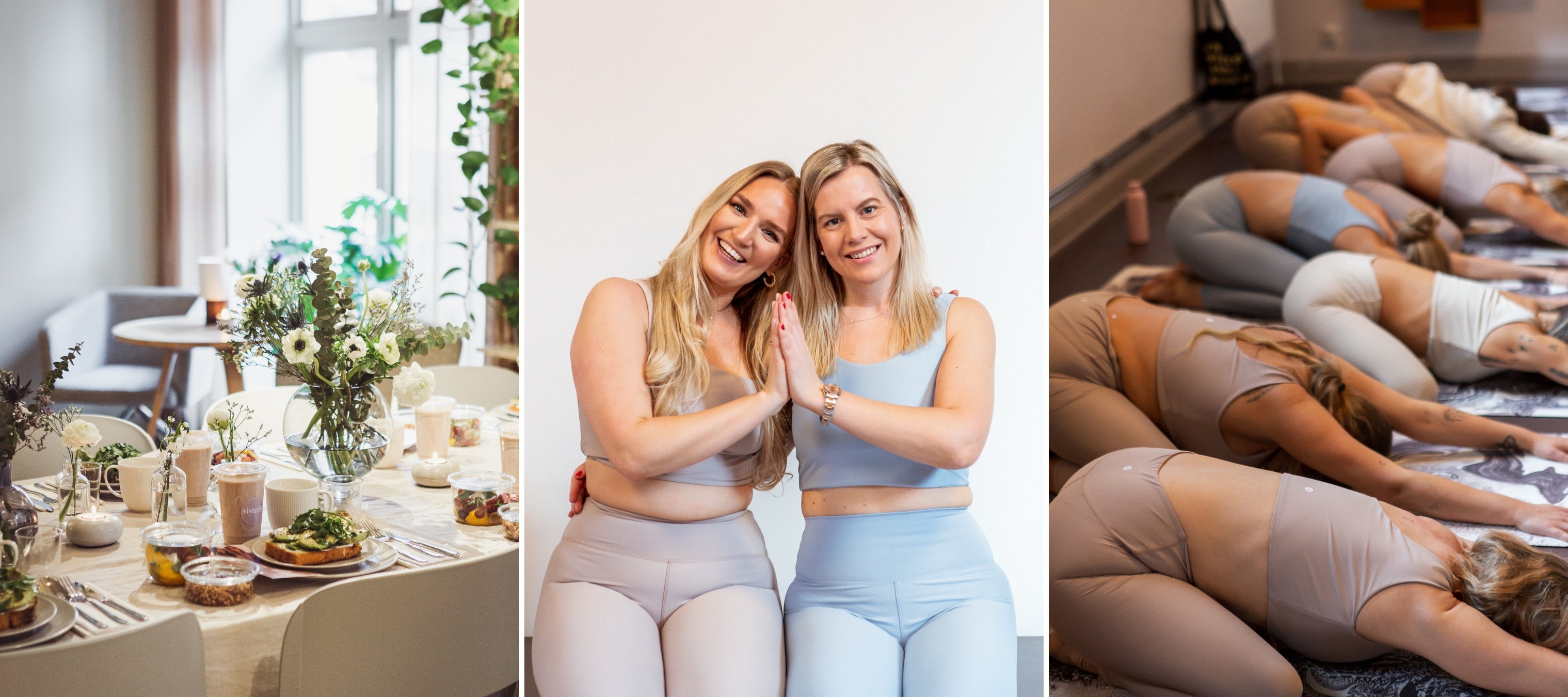 Upcoming Events
Yoga Event – Soft Movements with Olivia
Tuesday 2nd of May 17.30 - 18.45 
We are inviting you to move in a soft and feminine Yoga Flow together with Olivia Hansson. The class is inspired by our new collection, Soft Movements. 
Location: Lyckoreceptet Linnégatan 9, Gothenburg
Doors open: 17:00 
Yoga class starts: 17:30 – 18:45.
Feel free to drop in from five pm and mingle before the class starts together with other amazing women. We are giving away incredible goodie bags!
Past Events: 
Boutique style Yoga & Well-being Day Retreat
Saturday 22nd - kl09.00-15.00
Tredje Långgatan, Göteborg
 
Give yourself a mini-vacation and fill up your own cup with inspiration and energy together with Camilla Bergström and Kristin Hars! You will be guide to a journey within and explore where your body belongs using movements and the breath.
We will nourish our bodies with healthy, vegan food, get time to reflect and learn more about the yoga philosophy and how this can be applied to our everyday life. Camilla has with her extensive experience a unique way of explaining yoga philosophy in a way that is easy to understand and apply to the western world.

Schedule :
08.30 - Doors open
9-12 - Yoga Practice & Philosophy 
12-13 - Lunch
13-15 Yoga Practice & Philosophy 


Yoga & Brunch 
Saturday 26th March - kl10.00-13.00
Miss Clara, The Rooftop restaurant, Stockholm
We are co-creating an event together with Yoga Breakfast Club and Lisa from Wingårdh Wellness. 

🔅Schedule :
10.00 - 10.30 - A journey within - Mantra Meditation with Reena

10.30 - 11.30 - Soulful Yoga with Lisa @wingardhwellness

11.30 - 12.00 - An introduction to Yoga Breakfast shop by @offscript.io & our co-creator @sisterlytribe

12.00 - 1.00 - Brunch by Rooftop at Miss Clara
 

Sisterly Tribe Super-Charged Saturday 
Saturday 12th March 
Tredje Långgatan, Gothenburg
We celebrate community and prioritize getting together as essential factors in feeling vibrant and getting recharged for the weekend ahead.
Join us in Gothenburg, Saturday March 12th, where we bring together some of our favourite practices for a thriving body, a healthy state of mind and for creating space for Big Dreams!
Event Details:
9.00 Doors Open
9.30 Jivamukti inspired Yoga with Oliva Hansson
10.40 Nourishing Brunch bites by Camilla, The Practice
11.00 Fireside chat with Kristin Hars, Sisterly Tribe
11.30 The Practice Movement session with Camilla
Goody bags and a special surprise will be revealed during the day!
Your Hosts:
Olivia Hansson - Certified Jivamukti Yoga Teacher
Camilla Ahlqvist - Certified YogaWorks Teacher. Founder of The Practice. Nutritionist & contributor of @food_pharmcay
Kristin Hars - Certified Yoga Teacher "Art of Life" and Founder of Sisterly Tribe
Rise & Shine 
Saturday 26th February, 2 classes: 10.15 and 12.00
NK Active Department, NK Gothenburg

We welcome you to an exclusive morning together with Sisterly Tribe at NK Gothenburg. The morning will start with a 60 min Jivamukti style yoga practice to get your weekend glow on led by Olivia Hansson (certified Jivamukti Yoga Teacher), followed by non alcoholic bubbles and a chance to explore more about Sisterly Tribe and meet the founder Kristin Hars.
You will also receive a goodie bag filled with treats from Sisterly Tribe and selected brands that we like.